Fulfillment:

It takes between It takes 2–7 business days to create a product and fulfill an order

Shipping:

The average shipping time is 4 business days depending on the delivery destination
International:

We offer international shipping

EUROPE

​Albania, Andorra, Austria, Belarus, Belgium, Bosnia and Herzegovina, Bulgaria, Croatia, Cyprus, Czech Republic, Denmark, Estonia, Faroe Islands, Finland, France, Germany, Gibraltar, Greece, Guernsey, Hungary, Ireland, Italy, Jersey, Latvia, Lithuania, Luxembourg, Macedonia, Malta, Moldova, Monaco, Montenegro, Netherlands, Poland, Portugal, Romania, San Marino, Serbia, Slovakia, Slovenia, Spain, Svalbard and Jan Mayen, Sweden, Ukraine, United Kingdom, Vatican City

EFTA STATES

​Iceland, Liechtenstein, Norway, Switzerland

CANADA

AUSTRALIA / NZ

JAPAN

WORLDWIDE
We do not ship to all other countries and territories not mentioned above, excluding Cuba, Crimea, Iran, North Korea, and Syria.
*Important: due to COVID-19/holidays, shipping time may delay.
​
We are conscious of overconsumption and overproduction so that is why we are creating our products on-demand and in limited quantity. It's small and we want to do our part no matter what. Our goal is to grow into a more sustainably conscious brand.
Digital Products:

We are unable to offer any refunds. Please contact us if you have any questions.
Physical Products

All sales are final with your purchase because all of our products are created on-demand and made just for you. We only accept returns or exchanges for item(s) damaged in transit or incorrect.
​
Wrong Address:

If you provide an address that is considered insufficient by the courier, the shipment will be returned to our facility. You will be liable for reshipment costs once we have confirmed an updated address with you (if and as applicable).

Unclaimed:

Shipments that go unclaimed are returned to our facility and you will be liable for the cost of a reshipment (if and as applicable).

Notification for EU consumers:

According to Article 16(c) and (e) of the Directive 2011/83/EU of the European Parliament and of the Council of 25 October 2011 on consumer rights, the right of withdrawal may not be provided for:

the supply of goods that are made to the consumer's specifications or are clearly personalized;

sealed goods which were unsealed after delivery and thus aren't suitable for return due to health protection or hygiene reasons,​ therefore Wilsar Creative reserves rights to refuse returns at its sole discretion. This Policy shall be governed and interpreted in accordance with the English language, regardless of any translations made for any purpose whatsoever.

Please send inquires/questions to contact@wilsarcreative.com
Credit / Debit Cards
PAYPAL
Frequently asked questions
Where can I get milkweed plants?
---
Finding milkweed in the wild can be difficult, but it's the easiest way to find whole plants. Otherwise, check your local nursery for native milkweed species for your area. To see which species are native to your area, click here and find your state. Unless you live in a tropical area, we discourage using Asclepias curassavica, tropical milkweed, which is not native to North America. You can also order milkweed seeds from online native plants suppliers such as Prairie Moon Nursery, Butterfly Encounters, or Easywildflowers.
---
Where can I find caterpillars to rear or adult butterflies to sample?
---
The best places to find caterpillars in the wild are areas with milkweed plants. Successfully finding caterpillars and adult butterflies will depend on where you live and the time of year. In many areas, butterflies are not often found in the summer months. Sightings can be more common in the spring and fall periods during migrations. Be persistent! If you have kits and are not seeing butterflies, don't give up – migrations may be just around the corner! The easiest places to find caterpillars and adult butterflies are state parks, gardens, and other natural areas. Please always make sure when removing caterpillars or catching adult butterflies on private property or in botanical gardens to ask permission and/or notify the proper authorities.
---
Why do I need to wear gloves and try and maintain sterile conditions?
---
The parasite spores are very small and easy to accidentally spread around. It's important to wear gloves to minimize the spread of spores from one sample to another. Always change gloves between handling different butterflies. One monarch may be infected, while another may not. It's important to try and keep a clean work area when handling and sampling the butterflies for parasites. Bleaching any containers, tools, and work surfaces the butterflies touched prevents cross-contamination of different samples and helps avoid touching a non-infected sample with infected spores from another. We suggest a 20% bleach solution be used between sampling individuals and also between different sampling periods.
---
Why are my caterpillars sick?
---
Larvae can die from many causes besides OE, including infection with bacteria, viruses, parasitoids, and temperature extremes.
• If you observe group deaths or individual caterpillars showing any of the following symptoms: vomiting, writhing, diarrhea, then it is likely they have been exposed to chemical poisoning. This can be a result of any pesticides used on the milkweed plants.
• If caterpillars are not eating, lethargic, and turn brown or black, then bacterial or viral infections are possible.
In any case where you observe caterpillar illness or death, immediately remove the affected individuals from the rearing containers, bleach the containers, and move remaining healthy individuals to new, clean containers with fresh plants.
---
Will sampling for parasites hurt a butterfly?
---
No. Monarchs are very sturdy and it is difficult for scales to be removed. It is important to apply enough pressure with the sticker on the abdomen to get a sufficient amount for a sample. You should see black coloration on the sticker when placed on the notecard.
---
What do I do with infected monarchs?
---
Read about this here.
---
Should I mail an empty chrysalis or part of a deceased butterfly to be sampled?
---
No. Unfortunately, we are only able to collect usable samples from the abdomens of monarchs so we cannot use other parts or the empty chrysalis to get an accurate estimate of the OE spores.
---
What does a pupa with OE look like?
---
Typical signs of OE infection in pupae include dark coloration that will initially show up on the abdomen and thorax areas, just underneath the cuticle (hard exterior of the pupa). These dark patches can be isolated as a few small spots, or may extend across all abdominal segments, thorax, and head. The signs of infection first appear about 3 days before adult butterflies emerge, before monarchs produce their own body pigment, and will progress each day. Often, these dark patches are distributed asymmetrically, whereas the monarch's own pigment is symmetrical from the middle line of the abdomen. It is important to contrast the heavy dark coloration that OE infection presents in pupa versus the symmetric coloration that can be observed in non-infected pupa while normal pigmentation is happening. Sometimes a damaged or wounded pupa will present external wounds that could be dark black; however, it is important to remember that OE development occurs underneath the cuticle, and thus appears dark grey when viewed externally. Pictures: top=healthy pupa, middle=infected pupa, bottom=infected pupa with wound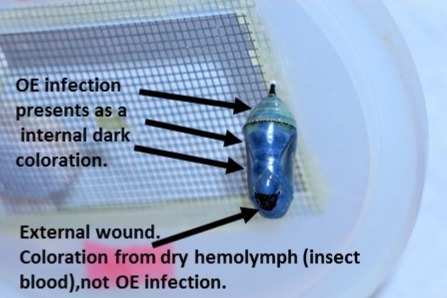 ---
What should I do if I've planted non-native tropical milkweed?
---
Because tropical milkweed continues to grow and bloom throughout the winter, it can reduce the need for monarchs to migrate. This lack of migration can result in increased OE prevalence in these resident populations. We suggest cutting back your tropical milkweed in the fall to mimic the "dying back" of native plants during this time. Or, you could remove these plants and replace them with native milkweed species. You can buy them online from Prairie Moon Nursery.
---
---